Members of Ellensburg Lodge #39 are active in the community and do lots of stuff outside of the Lodge building
Nick Henderson was recently elected to serve as Kittitas County's first Coroner.

Here is a picture on Election night.  Ron Graham, on the left and Master of the Lodge, congratulates Nick (right).
Andrew Caveness published a book on

the History of Kittitas County.

Way to go Andrew! (center of picture holding something.)

This is a picture from the Daily Record of Bob Johnston driving his 1942 jeep in the Veteran's Day parade.  Bob served in WWII and has had a long and distinguished career in the Marine Corps.

Bob was Master of the Lodge in 1961 and still regularly attends lodge meetings.
Bob Gets Married!

This is a wedding announcement from the Daily Record of Bob Johnston and his new wife Harriet.  The dated in highschool here in Ellensburg – a long time ago!
| | |
| --- | --- |
| | This is a picture from the Daily Record of Pat Stanton in a rare (for him) day of manual labor during the community downtown clean up. |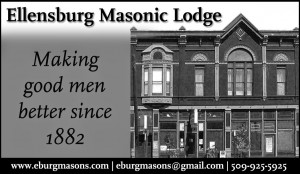 (old phone number…)